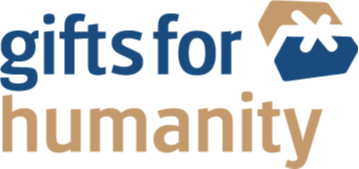 This nonprofit gift store appears on the Gifts For Humanity platform, which is operated by Important Gifts, Inc., a 501(c)(3) nonprofit.
ImportantGifts, Inc. takes your privacy seriously. Please read the following to learn more about our privacy policy.
What This Privacy Policy Covers
This policy covers how ImportantGifts, Inc. treats personal information that ImportantGifts, Inc. collects and receives, including information related to your past use of ImportantGifts, Inc. products and services. Personal information is information about you that is personally identifiable like your name, address, email address, or phone number, and that is not otherwise publicly available.
This policy does not apply to the practices of companies or organizations that ImportantGifts, Inc. does not own or control, or to people that ImportantGifts, Inc. does not employ or manage. This policy does, however, apply to Card Vendor which performs certain services for the Website, and which sells greeting cards and other gift items that may be purchased to memorialize a donation made through the Website.
In addition, should you consent to release your personal information to any third party, including the nonprofit organizations that receive grants in your name, the privacy policy of ImportantGifts, Inc. will not apply; such third parties, including grant nonprofit organizations, have their own privacy policies. ImportantGifts, Inc. does notify schools and nonprofits supported by Users of the Users' identity.
Information Collection and Use
ImportantGifts, Inc. may collect personal information when you register with ImportantGifts, Inc., when you make a donation or purchase any of the ImportantGifts, Inc. (or Card Vendor) products or services, or when you visit Website pages or the pages of certain ImportantGifts, Inc. partners or affiliates. ImportantGifts, Inc. may combine information about you that we have with information we obtain from other nonprofit organizations, or from Card Vendor, which administers certain aspects of the Website.
When you register with ImportantGifts, Inc. we ask for certain personal information about you. Accordingly, once you register with ImportantGifts, Inc. and log in to our services, you are not anonymous to us.
ImportantGifts, Inc. may collect information about your charitable donations, favored causes or charities, favored donation items, and greeting card or gift preferences. This list of personal information that may be collected about you on the Website is by no means exclusive..
ImportantGifts, Inc. may also automatically receive and record information on our server logs from your browser, including your IP address, cookie information and requested page information.
How Secure Is Information About Me?
ImportantGifts, Inc. uses any collected personal information for the following general purposes: to help customize content you see, fulfill your requests for products and services, improve our services, contact you, conduct research. ImportantGifts, Inc. may also use this information, on an anonymous reporting basis, for the benefit of other charitable organizations or governmental agencies.
Children will not have access to the Website, without parental permission. Once such parental permission is received, then information will be collected on the same basis as adults.
ImportantGifts, Inc. does not rent, sell, or share personal information about you with other people, companies or other nonprofit organizations, unless you specifically provide your permission to ImportantGifts, Inc.
Notwithstanding the foregoing, ImportantGifts, Inc. will respond to subpoenas, court orders, or legal process, or to establish or exercise our legal rights or defend against legal claims. We also believe it is necessary to share information in order to investigate, prevent, or take action regarding illegal activities, suspected fraud, situations involving potential threats to the physical safety of any person, violations of ImportantGifts, Inc.'s terms of use, or as otherwise required by law.
We may transfer information about you if ImportantGifts, Inc. is merged with another nonprofit organization. In this event, ImportantGifts, Inc. will notify you before information about you is transferred and becomes subject to a different privacy policy.
ImportantGifts, Inc. may set and access ImportantGifts, Inc. cookies on your computer.
ImportantGifts, Inc. desires to protect the security of your information during transmission, and utilize SSL software designed specifically for that purpose. ImportantGifts, Inc. also desires to protect credit card information stored on file, and we utilize a 128-bit security certificate for all credit card payments.
It is also important for you to protect against unauthorized access to your password and to your computer.
You can delete your ImportantGifts, Inc. account upon written request.
Changes to this Privacy Policy
ImportantGifts, Inc. may update this policy. We will notify you about significant changes in the way we treat personal information by sending a notice to the primary email address specified in your ImportantGifts, Inc. account or by placing a prominent notice on our Website.
If you have questions or suggestions, contact us at:
ImportantGifts,Inc.
Legal Department, Spiegel Legal, LLC
148 North Main Street
Florida, NY 10921
Click the X in the upper right corner of this page to close it and return to the nonprofit you were visiting.